How annuities are taxed can be dependent on the types of funds you use to invest in the annuity. When you invest with qualified funds, withdrawals are taxed as ordinary income. When you invest in an annuity contract with non-qualified funds, withdrawals are taxed as ordinary income until you get to the principal, which has already been taxed. When you use tax-free or Roth investments to fund your annuity contract, withdrawals maintain their tax-free status.
Qualified – The first and most common option is utilizing an existing qualified account, such as an IRA, 401k or other government-sponsored retirement account as the source of funds, which are then rolled into your annuity contract. A qualified account is a retirement account funded with pre-taxed assets, which are assets that have never been taxed, and the contribution itself may be tax-deductible. At the time of distribution or withdrawal, the funds are then taxed at ordinary income rates. Typically these distributions are taken over many years, spreading the taxes over that time. There are also IRS restrictions as to when distributions can and must be made.
Non-Qualified – A non-qualified annuity is funded with after-tax dollars, meaning you have already paid taxes on the money before it goes into the annuity. When you take money out, only the earnings are taxable as ordinary income. You can purchase a non-qualified annuity regardless of whether or not you are covered under a retirement plan at work, or have a Traditional IRA or Roth IRA. The "last in, first out" rule applies as the earnings are taxed. Once the principal is reached, the assets have already been taxed and will not be taxed again.
Roth – A Roth annuity grows and is distributed tax-free.
The tax status of your existing retirement accounts typically determines which option is best for you. Long-term planning, along with determining which funds you want to be kept sacred and which funds you don't want to lose, will determine the best course of action.
Here is a more complete list of the similarities and differences between qualified, non-qualified and Roth annuities: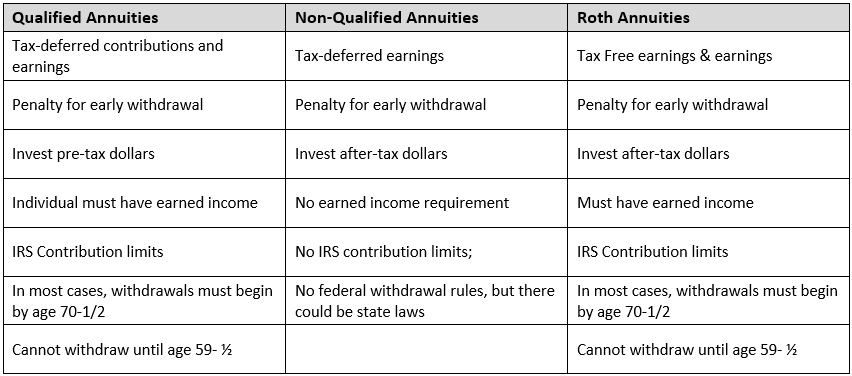 P.S. – Please share this article with others by simply clicking on the blue social media icons at the top of your screen!